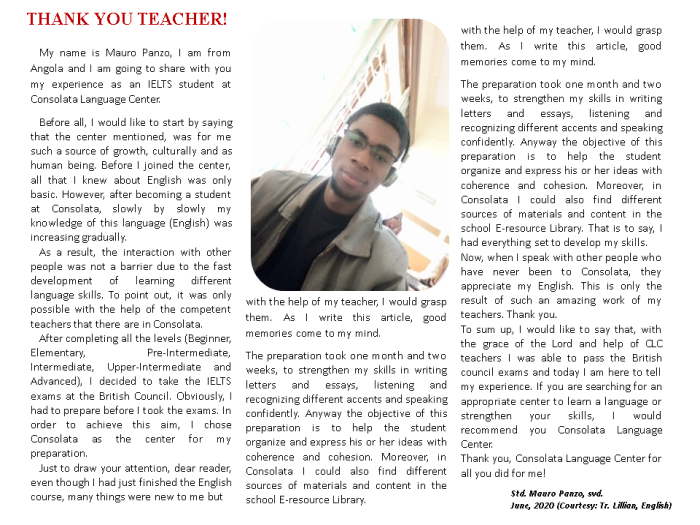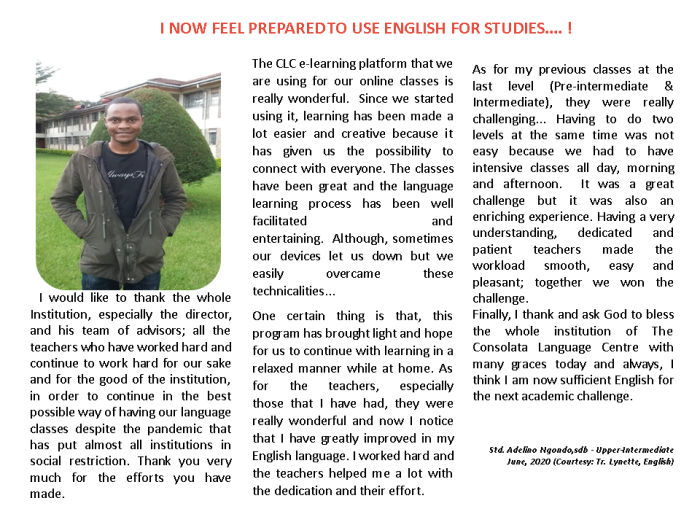 SUCCESSFUL TRANSITION FROM TIGRINYA TO ENGLISH...
FIVE MONTHS AGO Ukuba could not figure out what is an English alphabet; she needed quite a while..... to express her morning gratitude for a new day in the language she was out to conquer slowly but surely…. Step by step she befriended the English language, thanks to her teachers, andso, now the beauty of her English article is evident. The Consolata Language Centre congratulates you sister!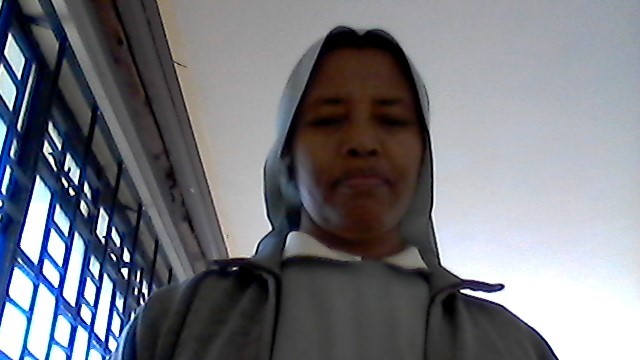 Hope you are doing well since, I finished my end level exam's on the 4th of June .I am also doing well and practicing and trying to cultivate what you planted in me for the five months that I have been in the school. I kindly appreciate you for whom you have been to me as an instrument and as school who has followed me from time to time and making sure that I can be able to construct a sentence in English and express myself to the people. I discovered, that, I really experienced the level since I was able to interact with other students in class and therefore deepening my speaking. You have been close to me as your student and as, have completed my studies by this level, I wish you all the best and that God may bless you all.
ENGLISH STUDENT
June 2020
Sr. Ukuba Issak (Advanced Level)
GOOD BYE 2019! - Happy New Year 2020 The Consolata Language Centre (CLC) held its annual end of year get together on the 19th of December 2019. The event took place at the Centre's spacious amphitheater; where most of the performances happened.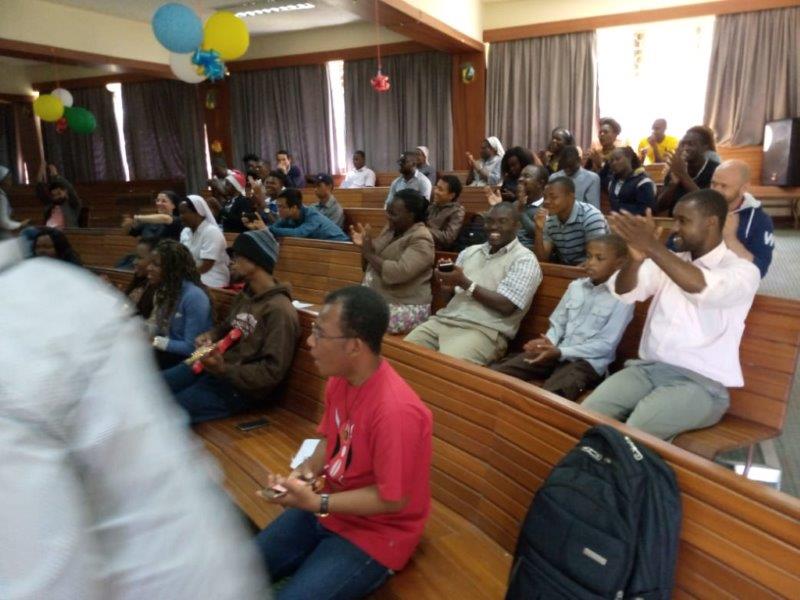 We enjoyed Christmas Carols, solo and group presentations, dances and even skits by the various students and their respective level teachers. Some students chose to give us a taste of Christmas carols in their native language (Italian and Polish)……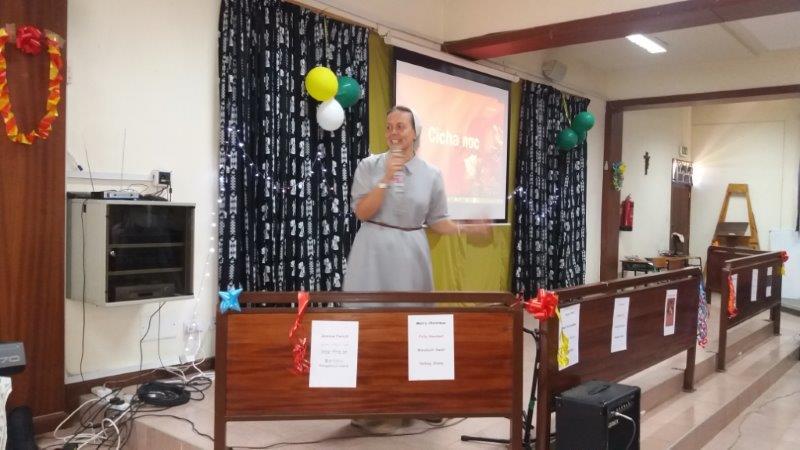 We also had the intermediate class coloured the day with a dance along with their teachers; it was really exciting to watch the staff members interact….
The centre also launched its new E-library to help students' access materials they need for their day to day studies. The Director, Fr. Denis Ofwono, imc. Encouraged students to register and use the new program especially those planning to do international exams like TOEFL or IELTS….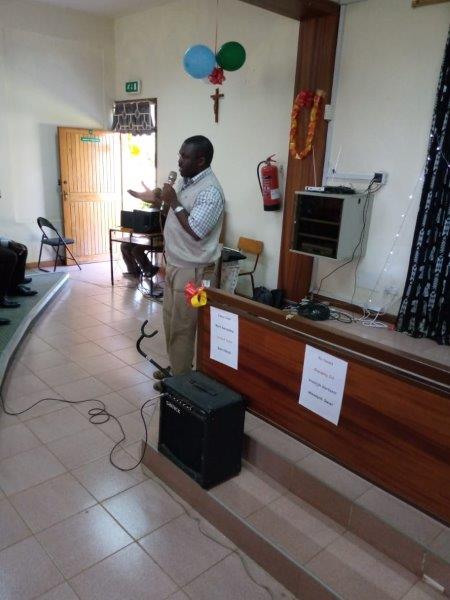 After all the presentations our support staff was just in time with delicacies of the day Food and drinks in plenty…. Students danced their hearts to the language bits before breaking off for Christmas….. Consolata Language Centre strives to ensure that its students and every other member feels at home and belonging…,
as we commemorate the institutions cultural and international diversity We say happy and prosperous New Year 2020.
Tr. Lilian Simuli.
NEW LOGO - CONSOLATA MISSIONARIES IN THE WORLD
CIP-CLC are institutions that ensure adequate philosophical training and language preparation of many people for the work of evangelization and related activities in the world all over. These educational institutions, initiated, managed and guided by the spirit and charism of Blessed Joseph Allamano, the founder of IMC and MC (Fathers, Brother and Sisters) in Turin-Italy; are glad to share with you the new international face and symbolic Identity of the Institute of the Consolata Missionaries (IMC) in the world as presented by the General direction as follows:

"After a long discernment, after many years of trials and attempts, after long consultations and exchanges of opinions, the Institute finally has chosen its logo to represent us and we present it to you so that it can be taken up by everyone. The logo is not only the main business card with which we present ourselves to people, but it is also the summary of our image, our philosophy, what we are and what we want to convey to the recipients. In other words, the logo is not only what the Institute represents but also what the Institute is all about Obviously, having to convey all these concepts, the design of the logo was a difficult and very long process. Comparing ourselves with the experts we can say, in summary, that the fundamental characteristics of a good logo are four:
- It must be descriptive, that is, to convey ideas, sensations and values fundamentally linked to the image of the mission we want to convey;
- It must be remembered, that is, it must combine visual impact and aesthetic simplicity so that it can be well stored in the minds of those who see it and will identify it more easily and associate it univocally with our own Institute;
-It must be versatile, and therefore adapt, both in colors and in dimensions, to various uses, supports and devices;
-It must be original: there are no Institutes in all respects equal to others, just as there must not be logos that are too similar or otherwise clearly related to other existing graphic concepts.
Trying to keep faith with all this, we, as GENERAL DIRECTION, present the logo that we have chosen to be adopted from now on by the whole Institute".
CLC-Director,
Courtecy of the Consolata Missionaries - Kenya/Uganda
~~seeking to raise standards in wholistic language learning and teaching~~