CONSOLATA LANGUAGE CENTRE A BEAUTIFUL GARDEN
In our life; a garden is Important for our well-being and for the beauty of creation. Nowadays, people like to have gardens in their compoundswhere they plant flowers or vegetables. In most cases, they take care of it and thus contribute ingiving life to humanity. The garden cannot take care of itself, it needs somebody so that everything can grow up in the best condition. So, I would like to share with you my experience in Consolata Language Centre which I compare with a beautiful garden. In this garden, there are many kinds of things; and the responsible (the director) and workers are united so that everything works well.
As a fruit in this garden, I am going to share the different seasons I have experienced.Theseseasons are rainy and dry. Firstly, the Consolata Language Centre as a beautiful garden had taken care of all fruits and flowers properly by helping everything to grow up in the best condition. This caring is like the rainy season that allowsthe garden to be in good conditions and to produce a lot of fruits.
The season is also tiring for the responsible and workers because they have to work hard so that they can keep the garden clean. Though the reality may be tiring, the staff of the garden didn't fail in their mission. I personally had a good experience to be among many fruits of this beautiful garden.
When I started, my English wasn't good. I joined the intermediate level.Then day by day, it was a big challenge for me to communicate very well. Luckily, I met best teachers who helped me to carry on to improve my English like a garden which receives water frequently.
Secondly, the garden has been an experience of dry season. Sometimes, it was scorched. This dryness was caused by the new situation of COVID 19 that we are living in now and has become our new normal. Despite all these the staff of the garden never gave up although there was a challenge of network from the students and from themselves.
We had also the problem of communication and lack of time. According to me,the period of learning wasn't enough. If we had more time, I think we would have learnt properly and finish the program without being under pressure.
In addition, the staff tried to do what was the best to avoid the consequences of dryness by their courage and commitment. For example, when the teacher had a problem about network, we used to have make up class. Indeed, I think that, Consolata Language Centre has done what was the best in this particular moment. Though it had sparsely problems about learning and teaching online.
I suggest if possible the Consolata Language Centre to add one week for the program, because online class is different from a physical class. In the end, the garden was so beautiful, and I am proud to be one of the fruit of this nice garden. I am grateful to father Denis, who was usually preoccupied for our learning. His fatherly advice during the meetings was very helpful.
I thank the teachers who I met, Lynette, Bernadette,Lilian and our dear Lucy, who in different seasons were there to help us to improve our English. Through them, I thank all staffs of Consolata Language Centre. May God bless and reward you allfor your good works. May He grant you many years and for all you will be doing after producing the good fruits for the wellbeing of society.
Sister Kahindo BUSANGIA Cecile FMM
Student Upper Intermediate
Courtesy of: Tr. Lucy Kavivi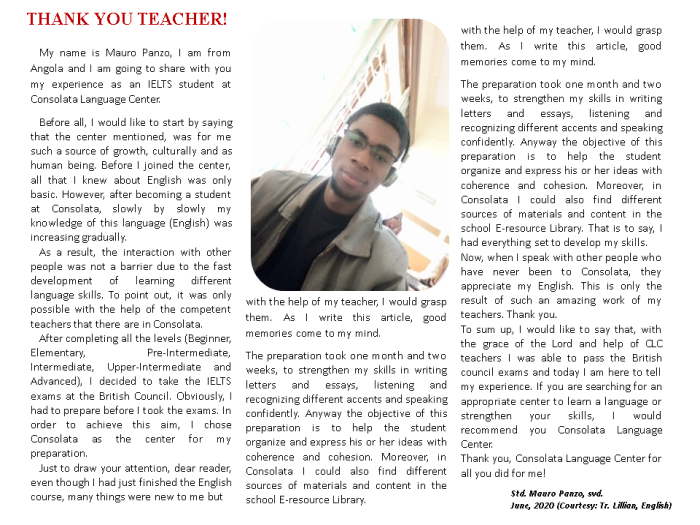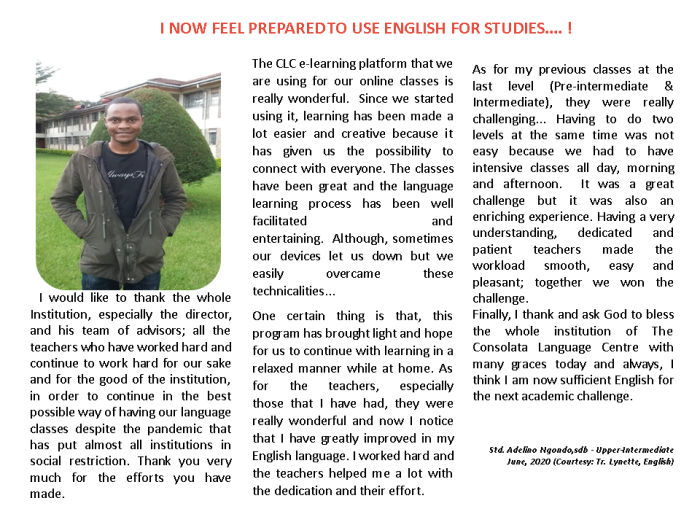 SUCCESSFUL TRANSITION FROM TIGRINYA TO ENGLISH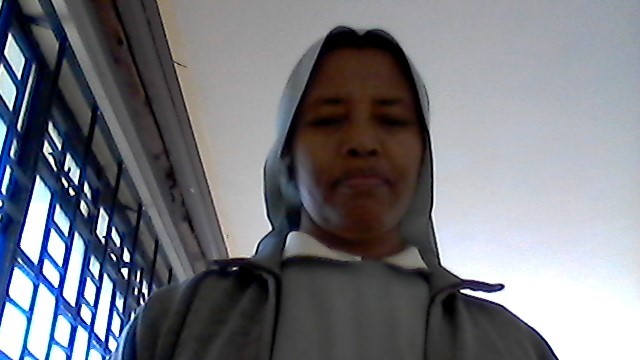 FIVE MONTHS AGO Ukuba could not figure out what is an English alphabet; she needed quite a while..... to express her morning gratitude for a new day in the language she was out to conquer slowly but surely…. Step by step she befriended the English language, thanks to her teachers, andso, now the beauty of her English article is evident. The Consolata Language Centre congratulates you sister!
Hope you are doing well since, I finished my end level exam's on the 4th of June .I am also doing well and practicing and trying to cultivate what you planted in me for the five months that I have been in the school. I kindly appreciate you for whom you have been to me as an instrument and as school who has followed me from time to time and making sure that I can be able to construct a sentence in English and express myself to the people. I discovered, that, I really experienced the level since I was able to interact with other students in class and therefore deepening my speaking. You have been close to me as your student and as, have completed my studies by this level, I wish you all the best and that God may bless you all.
ENGLISH STUDENT
June 2020
Sr. Ukuba Issak (Advanced Level)
NEW LOGO - CONSOLATA MISSIONARIES IN THE WORLD
CIP-CLC are institutions that ensure adequate philosophical training and language preparation of many people for the work of evangelization and related activities in the world all over. These educational institutions, initiated, managed and guided by the spirit and charism of Blessed Joseph Allamano, the founder of IMC and MC (Fathers, Brother and Sisters) in Turin-Italy; are glad to share with you the new international face and symbolic Identity of the Institute of the Consolata Missionaries (IMC) in the world as presented by the General direction as follows:

"After a long discernment, after many years of trials and attempts, after long consultations and exchanges of opinions, the Institute finally has chosen its logo to represent us and we present it to you so that it can be taken up by everyone. The logo is not only the main business card with which we present ourselves to people, but it is also the summary of our image, our philosophy, what we are and what we want to convey to the recipients. In other words, the logo is not only what the Institute represents but also what the Institute is all about Obviously, having to convey all these concepts, the design of the logo was a difficult and very long process. Comparing ourselves with the experts we can say, in summary, that the fundamental characteristics of a good logo are four:
- It must be descriptive, that is, to convey ideas, sensations and values fundamentally linked to the image of the mission we want to convey;
- It must be remembered, that is, it must combine visual impact and aesthetic simplicity so that it can be well stored in the minds of those who see it and will identify it more easily and associate it univocally with our own Institute;
-It must be versatile, and therefore adapt, both in colors and in dimensions, to various uses, supports and devices;
-It must be original: there are no Institutes in all respects equal to others, just as there must not be logos that are too similar or otherwise clearly related to other existing graphic concepts.
Trying to keep faith with all this, we, as GENERAL DIRECTION, present the logo that we have chosen to be adopted from now on by the whole Institute".
CLC-Director,
Courtecy of the Consolata Missionaries - Kenya/Uganda
~~seeking to raise standards in wholistic language learning and teaching~~