ABOUT US
A facility that was thought and put up by the Institute of the Consolata Missionaries (IMC), as a solution to learning languages in the East and Central Regions of Africa. It opened its doors on the 14th of January 2010.
This idea was conceived in a continental meeting of the major superiors of the Consolata missionaries in 2005 upon visualizing a prophetic need of a language learning Centre in a suitable African Country. This insight gained maturity in 2006 with the canonical visit of the general superiors, who expressed their intention and desire to concretize and attach it to the already existing Consolata Institute of Philosophy (CIP).
This expeditious mission was entrusted to Fr. Guisseppe Bertaina and Fr. James Lengarin, Consolata Missionaries, who in consultation with the Kenya-Uganda Region, zealous and dedicatedly brought to completion in August 2009, when they officially handed over to the Regional administration, the finished and well-furnished modern Consolata Language Centre (CLC) which we treasure today.
It comprises a fully equipped Amphitheatre with multimedia, internet and video conferencing facilities, capable of comfortably accommodating up to 300-seated persons. Classrooms pedagogical capacity of 14 students per session. A digital and multimedia language library. A language laboratory, fully equipped for training people for simultaneous translation, phonetics, pronunciation and comprehension exercises. A computer booth with 13 computers fully networked 24hours for practicing and accessing licensed programs for learning languages on internet. A staff room for absolute comfortability of our teaching staff. The Centre's Director and Administrator's offices; plus an up to date secretary/reception office to meet the national and international demands of communications and transactions.
Today we gladly affirm, that the language Centre was setup to cater for people from all works of life, from the continent and beyond, who need to learn and/or deepen languages and open up to other cultures (English, Swahili, French, Italian, Spanish, Portuguese, German, Chinese, Arabic, etc.) for various purposes, such as work, travel and leisure.
With that at the forefront, the Centre aims to develop both receptive and productive skills in its students, so that they can communicate in real situations. Besides the teaching of languages, the ideology that enshrines CLC is also set up to help in the introduction to Eastern African and particularly Kenyan culture through audio-visual presentations, such as music, documentaries and other pertinent issues in the African continent, i.e. its History, Politics and Economy, among others

.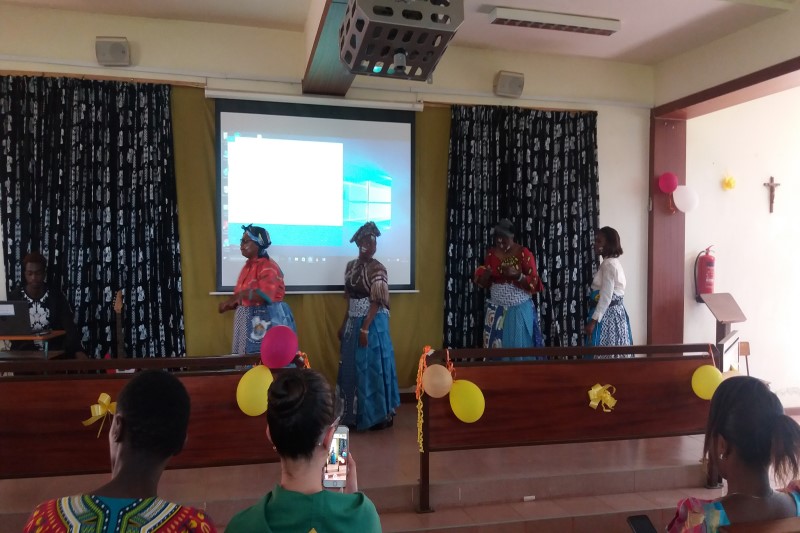 This is facilitated by the proximity and healthy institutional rapport that CLC enjoys, with cultural and touristic centers such as Bomas of Kenya, the National Museum and National parks within and around East Africa. The CLC is also set to become a Centre for training language teachers from around Nairobi where they can learn new methods and technologies in teaching modern languages; and production of didactic materials for this purpose.
Computer packages; and Basic training in Information and Communication Technology (ICT) including ICT Consultancy are yet other areas and services being explored and offered at the CLC as a way of equipping our beneficiaries in view of a globally advancing world in the art of language and communication with a digital touch.
~~ seeking to raise standards in wholistic language learning and teaching~~